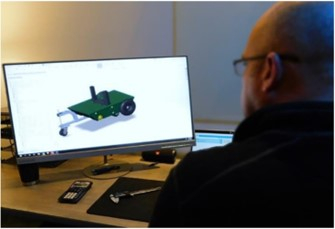 Our Roots
Advanced Training Systems (ATS Targets) was founded in 1973 to develop innovative decision-making live-fire training equipment for law enforcement and defense firearm training professionals. Since the inception and invention of the Duel-A-Tron© shoot/don't shoot training system, ATS Targets has been building live-fire shooting ranges for military, law enforcement, and civilian security agencies. Known for product quality, ATS Targets has developed an enviable reputation for corporate integrity and product innovation. ATS Targets is known for superior designs and durability with minimal service requirements. Over the decades, ATS Targets has developed multiple product lines serving our customers' key training needs along with several one-of-a-kind training systems to suit unique needs.
Transitions
Windcrest LLC, based in Waconia, MN, purchased Advanced Training Systems, Inc. in February 2018. The company moved from its longtime location at 4524 Highway 61 N, Saint Paul (White Bear Lake), MN 55110 to 304 Main St. E., Norwood Young America, MN 55397. We are focused on building upon the great legacy of ATS Targets' innovative products with the latest technology, the best thought in advanced firearms training, and excellent after-sale service.
Today
Today, ATS Targets assists in planning and building new live-fire shooting ranges, rehabilitating existing ranges, and developing innovative target training systems to enhance the realism of our customers' present firearms training programs. ATS Targets offers three major classes of products: qualification shooting ranges, tactical (or dynamic) target systems, and modular live-fire shoot houses.
ATS Targets is committed to an ethical approach to each and every project. We insist that our products be functional, safe, and long-lasting. We believe every life is precious and valuable, and we manufacture products to ensure that peacekeepers are thoroughly equipped to make sound decisions when threats they encounter require lethal force.
"He trains my hands for war, so that my arms can bend a bow of bronze."
To assist government purchasers, ATS Targets offers all products and services under GSA contract (#47QREA19D0009) to help expedite government purchasing. Contact us today and let us help you meet your training goals.
Mailing Address:
P.O. Box 486
Waconia, MN 55387
New Physical Location:
304 Main St. E.
NYA, MN 55397